Coal, the remains of ancient plants, is buried in the earth's crust and isolated by air pressure and temperature conditions. The carbonized fossil minerals produced by human mining are mainly used as fuel, which is the most abundant and widely distributed fossil fuel on earth. It is estimated by World Energy Council that coal recoverable resources in the world amount to 4.84×10.4 billion tonnes of standard coal, accounting for 66.8 percent of the world's recoverable fossil fuel resources. It is distributed in all continents and islands, but the distribution in the world is very uneven, and the reserves of coal are also very different in each country. China, the United States, Russia and Germany are the countries with abundant coal reserves, and are also major coal producers in the world.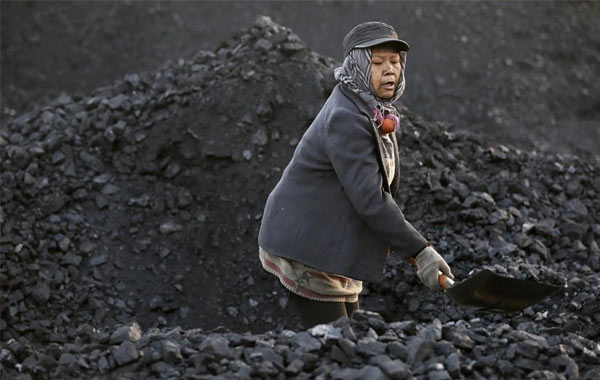 Coal plays an important role in modern industry, to name a few, heavy or light industry, energy, metallurgy, machinery, light textile, food, transportation and chemical industry. All kinds of industrial sectors have to consume a certain amount of coal to a certain extent, so it is said that coal is the "real food" that is one of the main energy sources used by human beings since the 18th century.
Wide applications of coal in modern industries

Coal has a wide range of applications, which can be summarized according to its purpose of use into thermal coal and coking coal.
The application of the thermal coal:
It is used for power generation, about 1/3 of China's coal is used for power generation, and the current average coal consumption for power generation is about 370g/(kw·h) of standard coal. Power plants use the calorific value of coal to convert thermal energy into electrical energy.

Locomotive coal accounts for about 2% of the thermal coal, and the average coal consumption index of steam locomotive boiler is about 100kg per ten thousand tonnes.

The coal used for building materials accounts for more than 10% of the thermal coal, and the amount used for cement is the largest, followed by glass, brick and tile.

In addition to thermal power plants and large heating boilers, dispersed general enterprises and industrial boilers with a wide variety of models adopt the thermal coal for heating, coal consumption accounts for about 30% of the thermal coal.

The amount of coal for life is also large, accounting for about 20 percent of the fuel coal.

The metallurgical power coal is mainly anthracite for sintering and blast furnace injection, and its consumption is less than 1% of the thermal coal.
Coking coal is used for coke production, which is smelted by coking coal and mixed coal under high temperature. Generally, 1 tonne of coke can be smelted by about 1.3 tonnes coking coal. Coke is mainly used in steel making, and is the main raw material for steel industry, so it is called as the "basic food" for steel industry.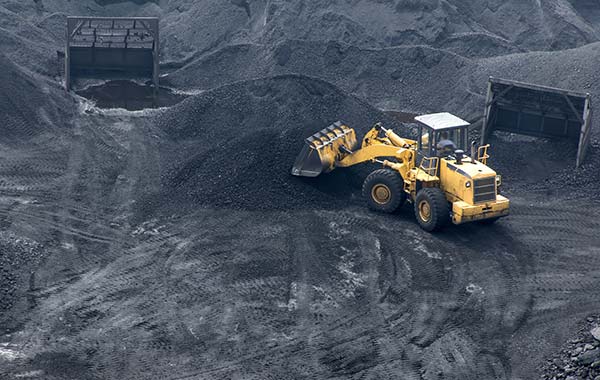 According to different characteristics, coal is divided into three categories, anthracite, bituminous coal and lignite, among which, anthracite is divided into powder and small block, black with metallic luster and shiny, which can be used to produce gas or directly used as fuel because of its few impurities, compact texture, high fixed carbon content up to 80%, and low volatile content below 10%, high ignition point, uneasy to fire, but high heat and less smoke. Bituminous coal is generally granular, small block, and powder that generally used in coking, coal blending, power boiler and gas chemical industry because its ignition point is not too high and it is easier to ignite. Lignite is mostly massive of dark brown, which is generally used in gasification, liquefaction industry, power boiler, etc for its low ignition point, and it is easy to catch fire.
Global coal production and demand

In 2018, the total production of coal was on the increase, reaching 7.85 billion tonnes, up about 4 percent. The coal production in China, India, Russia, Indonesia and Mongolia increased significantly, while the production fell in the United States, Canada, Germany, Poland, Ukraine and other western countries. At the same time, affected by the development and utilization of natural gas and renewable energy, coal consumption has been reduced, coal-fired power plants have been phased out, and coal power generation capacity and utilization rate have been declining year by year. Global coal demand declined from 2015 to 2017, however, coal still contributes more than a quarter of the global energy mix in 2018.
The increasing international trade volume promotes higher international thermal coal price once again in this stage. To illustrate the thermal coal price (HBA) in Indonesia, it fell down to $50.92 a tonne at the start of 2016 before recovering quickly after July and reaching $101.69X a tonne by December, double the level at the year. HBA has fluctuated with higher price in 2017 to $107.83 a tonne in August 2018, which is the highest price since March 2012. In 2018, the average HBA for the year was $98.96 per tonne, increasing by 15.2 percent from the previous year's prices of $85.9 per tonne. At the same time, international coking coal prices also fluctuated with higher price, for example, the closing price of high quality coking coal in cape port, Queensland, Australia, rose rapidly in the second half of 2016, reaching $311.5 per tonne at the end of the year, more than three times the price at the beginning of the year. In April 2017, due to the impact of hurricane "Debbie" and other factors, its price also had a short-term violent oscillation, but the second half of the year has been showing a trend of high volatility and stabilization. Since 2018, the closing price of high quality coking coal in cape port has continued this trend. The price on December 21 was $227.50 per tonne, and generally fluctuated around $200 per tonne for the whole year.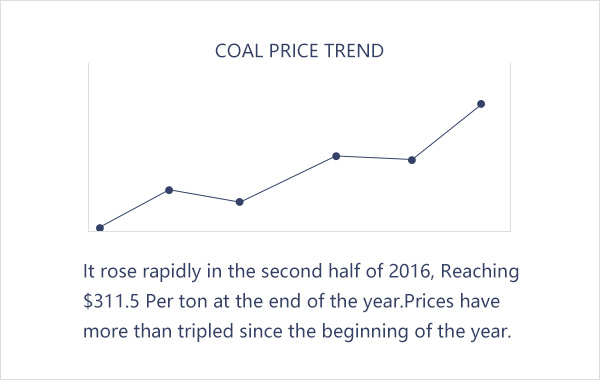 The price of coal has been on the rise continuously, but the demand and consumption of coal in developed countries have decreased, leading to the unbalanced development of the international coal market. With the global awareness of low-carbon and environmental protection gradually rising in 2018, primary energy represented by coal and oil is facing unprecedented challenges. Coal imports of Western Europe and North America fell, while those in East Asian countries, such as Japan and South Korea, remained stable. However, affected by the shrinking coal demand in Europe and America, the coal export volume of South Africa and Colombia decreased, while the export volume of southeast Asian countries increased.
In Europe and North America, closing coal plants is becoming a key part of climate policy. Western European countries are accelerating their exit from coal use. On December 21, 2018, Germany closed the last coal mine in the Ruhr, officially ending more than 250-year history of coal mining. More than 600,000 people worked in Germany's coal industry at its peak, but just 5,700 miners at the end of 2018. France and Sweden will close their last coal plants by 2023. Instead, new coal plants in emerging economies such as India and southeast Asia will increase demand for coal. According to the International Energy Agency (IEA), demand for coal from new coal-fired power plants in India has grown by more than 6% a year over the past decade and increased by nearly 4% over the next five years. In addition, the southeast Asian market is also the focus of coal growth. Demand for coal is expected to grow fastest in southeast Asia by 2023, exceeding 5% a year.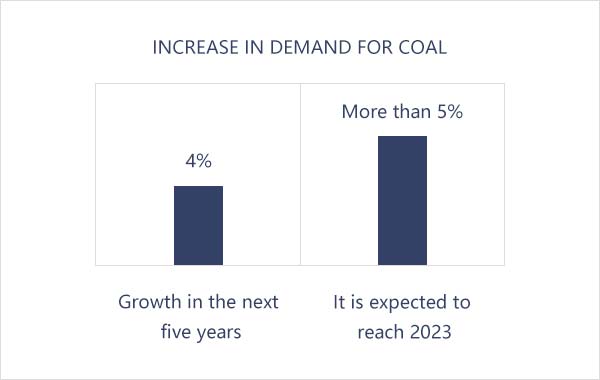 Coal consumption in the US has fallen to its lowest level in almost 40 years, and has fallen each year since peaking in 2007. In 2018, US coal consumption is expected to fall 4 percent from 2017 to 691 million tonnes (about 627 million tonnes), the lowest level since 1979 and 437 million tonnes lower than its peak in 2007, which declined 44 percent. The main reason for the decline is a sharp drop in coal consumption in the power sector. The power sector is the largest coal consumer in the United States, accounting for 93 percent of U.S. coal consumption from 2007 to 2018. U.S. thermal coal consumption has been declining since 2007 as competition from natural gas and renewable resources have squeezed coal's share of the energy market.
Coal production is expected to increase in 2019

In 2019, the world coal market will face increasing uncertainty and downward pressure, and the world coal market will face significantly increasing downward pressure in 2018 due to various factors, including the development of the world economy, the continuous trade friction between China and the US, and the urgent requirement of global climate change reduction. Some countries and enterprises have completely withdrawn from the coal market, because of the global coal project investment and financing difficulties, so that the industrial development is facing the dilemma of sluggish demand and growth. However, we should also realize that in the foreseeable future, coal will remain the dominant energy source in the world, and the coal consumption of countries in Southeast Asia and South Asia will grow strongly. Global coal demand will continue to climb until 2023, rising at an average annual rate of just 0.2 percent, as demand growth in India, Vietnam and other Asian countries offsets declines in Europe and the United States.
In a nutshell, global coal production and consumption vary regionally in 2018. The increased demand for natural gas and new energy in many developed countries, such as Western Europe and North America, has led to a sharp decrease in coal production and consumption. While in emerging economies such as Southeast Asia, output and demand have risen in tandem. However, the healthy development of the coal industry in the future still needs to be planned. Under the pressure of global climate change and the advocacy of environmental protection, all countries should seek a healthy and sustainable development mode.
For the future development of the coal industry, cleaning processing has become the industry consensus. In fact, clean energy is different from fossil energy precisely because of its environmental friendliness. Over time, when coal is cleaned up, it also can be called clean energy. In raising the efficiency of coal-fired power generating units and coal power plant ultra-low emissions, the coal chemical technology also is an important link in promoting clean coal utilization. At present a lot of coal mines have started using coal crusher equipped with dust removal equipment and dust collector, like jaw crusher, all countries should take efforts to control the excessively rapid growth of energy of the coal industry, and improve the industrial policy in order to speed up the adjustment of industrial structure and curb unreasonable demand for energy. In addition, the coal industry should be strictly supervised in project permits, land, environmental protection, credit, and other aspects.