Natural resource in Indonesia

Indonesia is the largest country in ASEAN (Association of Southeast Asian Nations), with a land area of 1.919 million square kilometers, a sea area of 3.16 million square kilometers (exclusive economic zone) and abundant mineral resources.
The metallic ores are mainly bauxite, nickel rock, iron ore, copper ore, tin ore, gold ore and silver ore, etc; non-metallic ores are mainly coal ore, limestone and andesite. Also, there are a certain amount of reserves such as zinc, mercury, manganese, lead, clay, granite, quartz stone, feldspar, dolomite, kaolin, phosphate, gypsum, etc.
Due to the backward geological exploration techniques, weak statistics and poor capacity of resource development and utilization in Indonesia, the government has a fragmentary grasp of the state of the country's resource reserves, which results that the mineral resources are developed and utilized by foreign companies.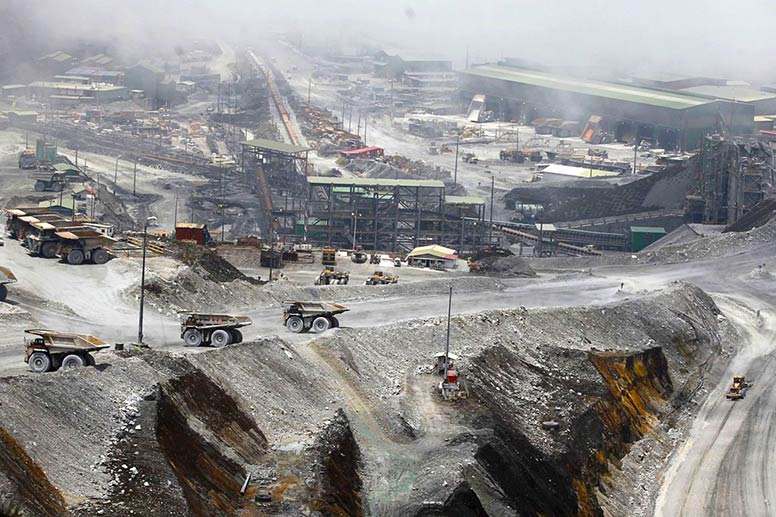 Indonesia is rich in mineral resources[1]
Recent status of andesite reserves in Indonesia
Andesite is abundant because there are many volcanoes in Indonesia. Andesite is found in Sumatra, Papua, Sulawesi and many other places in Indonesia, with reserves estimated at more than 64.3 billion tons, according to the data of the Ministry of Energy and Mines in Indonesia.
Sand and gravel Market Demand in Indonesia
According to the data, the Asia-Pacific region including Indonesia, Malaysia and other countries, will have the fastest growth in the demand for sand and stone aggregate, with the market demand reaching 51.7 billion metric tons, and average annual growth of 5.2% in 2019.
As Indonesian property market recovers and per-capita wages rise, the demand for modern housing is growing. In terms of infrastructure, the Indonesian government and the relevant departments of business investment will work together.
Due to the promotion of infrastructure construction, Indonesian natural sand reserves are gradually decreasing. The appearance of artificial sand effectively alleviates the gradual depletion of natural sand resources. Therefore, andesite as the main mineral resource of Indonesia, a large part of it is put into the production of artificial sand.
Andesite Sand and Gravel production line
Andesite rocks characteristics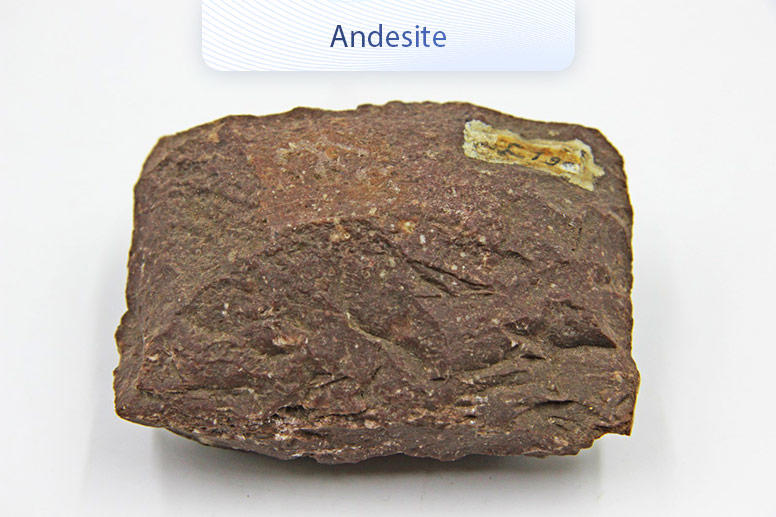 Characteristics of andesite rocks
Andesite is a kind of neutral, calc-alkaline, and ejective rock, with the component which is equivalent to that of diorite and the color of dark green, light rose, dark brown, etc. Andesite emerged mainly as surface deposits. Many of the andesite deposits are not normal lava flows, but flow breccia, mudslides, tuff, and other clastic rocks.
Andesite sand advantages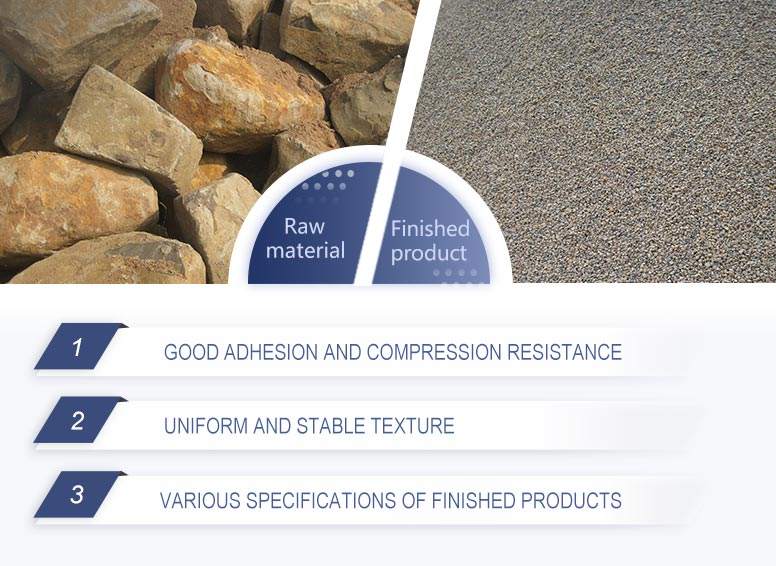 Advantages of andesite sand
Adhesion and compression resistance
The particle size of andesite artificial sand is irregular. When using cement and other building materials to bond, it often has better adhesion, more compression resistance and longer service life.
Composition and structure
Andesite sand has uniform and stable structure, consistent mineral composition and chemical composition, and is not as complex as natural sand.
Fineness modulus
The fineness modulus of andesite artificial sand can be controlled manually in the production process, and the production can be organized according to the user's requirements, which is impossible for natural sand.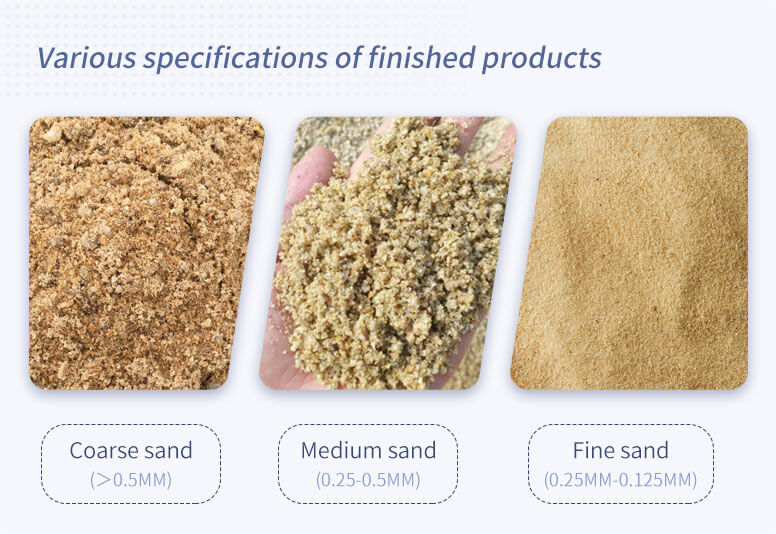 Various specifications of andesite sand
HXJQ Machinery andesite sand making machine can meet the requirements of coarse sand (> 0.5mm), medium sand (0.25mm-0.5mm), fine sand (0.25mm-0.125mm) and other different specifications, which can be suitable for various building types.
Andesite sand making machine
At present, the most popular andesite sand making machine is VSI sand maker, which has an advanced structure, good performance and large market requirements. Compared with other sand making machine, VSI sand making machine has the following advantages.
VSI sand making machine advantages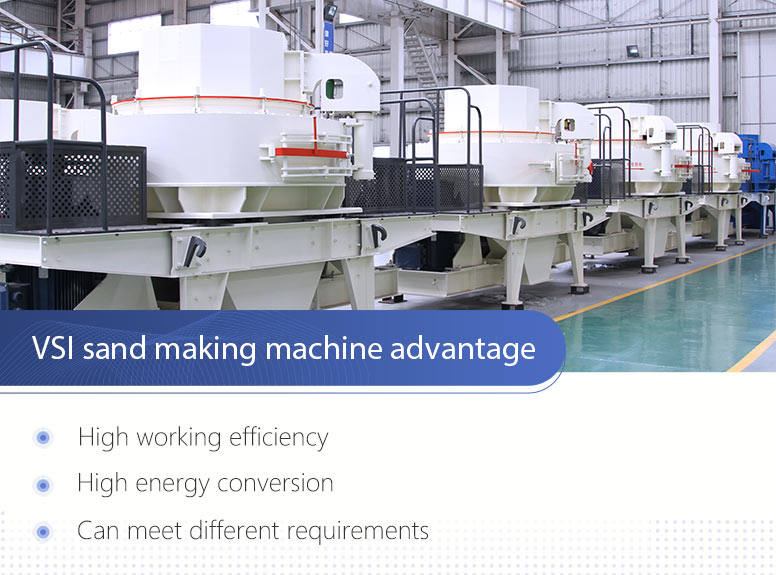 Advantages of andesite sand making machine
1. High working efficiency
The andesite sand making machine has the maintenance and observation door on the side. During the working process, we can observe the running condition of machine and the wear of the parts. If there is any fault in the vulnerable part, maintenance personnel can change it through the door, which reduces a lot of maintenance and inspection time and improves the working efficiency.
2. High energy conversion
VSI sand making machine has two feeding methods, and different feeding methods have different capacity and energy costs. According to the actual requirements, customers can choose the most suitable feeding method to ensure that the energy is effectively converted.
3. Various specifications of finished products
VSI sand making machine can process andesite into different particle size.
Coarse sand--sand with a particle size greater than 0.5mm, exceed 50% of the total weight, and mainly used for beams, slabs, columns, foundations, floors.

Medium sand--sand with a particle size greater than 0.25mm, exceeding 50% of the total weight and an average particle size of 0.5 to 0.25mm. It is mainly used for plastering of interior and exterior walls, ceilings and screeds on the roof of the building. It can also be used for beams, slabs, columns, foundations, concrete mixing, masonry, plastering mortar.

Fine sand--sand with a particle size greater than 0.075mm, exceeding the total weight of 85%, and the average particle size is 0.25mm to 0.125mm.
Andesite sand production line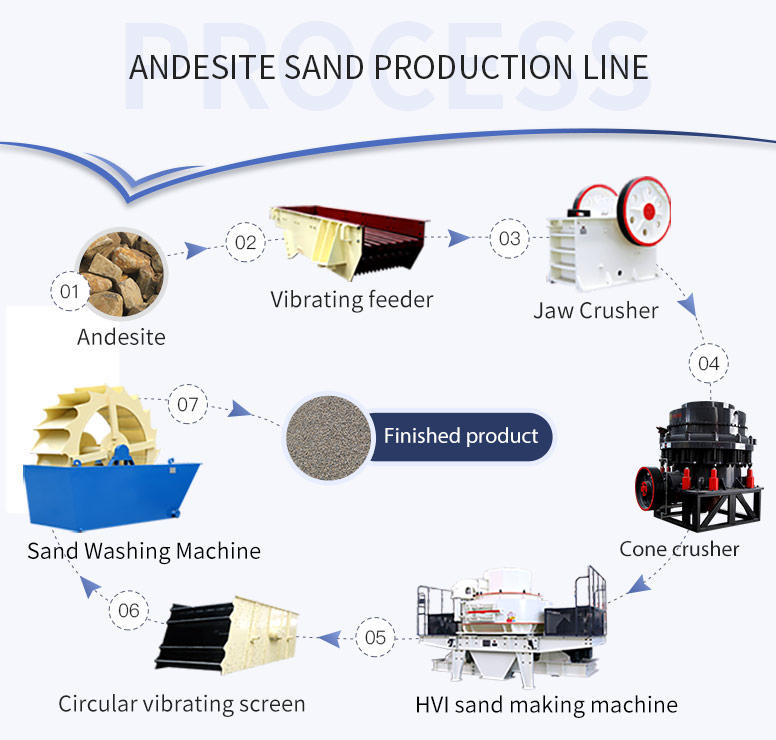 Andesite sand production line
Andesite sand production line includes vibrating feeder, jaw crusher, cone crusher, circular vibrating screen, andesite sand making machine, sand washing machine, belt conveyor and dryer.
1

Coarse crushing: The mined andesite is uniformly sent to the jaw crusher by the vibrating feeder, and the andesite raw materials are processed to about 200mm in the jaw crusher.

2

Medium crushing: The coarse sand is sent to the cone crusher at a constant speed by a belt conveyor for secondary crushing. After being processed to about 50mm, it is sent to a circular vibrating screen for screening.

3

Fine crushing: The qualified andesite is sent to the sand making machine by the belt conveyor for sand shaping. When the sand is shaped, the andesite of about 50mm is processed to 0-2mm, 2-5mm, 5-10mm and other specifications.

4

Washing: Qualified andesite rock granules are sent to the sand washing machine for cleaning. After cleaning, the andesite artificial sand can be used as building materials after dehydration and drying. (This part is applicable to the needs of ultra-high-grade buildings. In other cases, this part can be omitted.)

5

It can also be equipped with environmental protection, control devices: In order to reduce dust and noise pollution, and improve environmental performance, you need to configure dust collection and noise reduction devices.
Customer case
HXJQ in Indonesia
Production capacity: 100TPH (1 Ton=0.625 m3)
Material: Andesite
Feeding size: 500mm
Discharging size: 1/4 INCH (6.35mm)
Equipment model: ZSW380×95 vibrating feeder, PE600×900 jaw crusher, B800×25m conveyor, PEX250×1000 jaw crusher (4 sets), VSI7611 sand making machine, etc.
Production line type: fixed type
Investment cost: $80,000-110,000
Customer feedback
This andesite crushing production line is rationally designed by HXJQ engineers according to my working site and production requirements. After the operation, the whole production line runs stably and reliably with high production efficiency and automation, high crushing ratio, high output, low cost of operation and low energy consumption.
The finished products are very uniform, which can meet the requirements of various fields. And the after-sales is relatively perfect, the equipment is very affordable. We are very satisfied and will continue to cooperate with the HXJQ machinery in the future.
As a country with large mine resources, Indonesia has not been properly utilized due to previous policies. However, since the release of the mining policy in 2017, it has attracted more and more investment. Recently, the pace of infrastructure construction has gradually accelerated, and the artificial sand will soon become a hot industry, and there will be great commercial value for a long time in the future. Therefore, it is sure to seize the business opportunity and choose the right andesite sand production line, which will bring huge profits.