Nigeria, located in the Southeast of West Africa, is the largest economy and most populous country in Africa; the largest oil producer and exporter in Africa.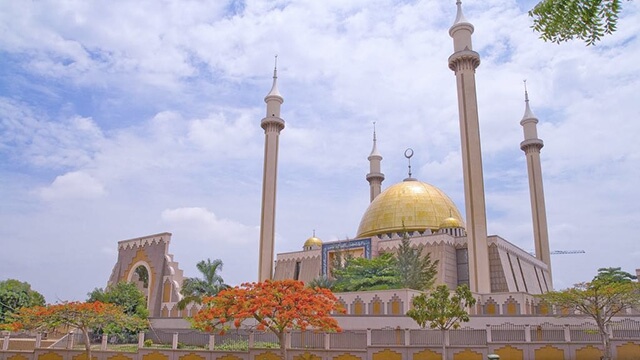 Up to now, Nigeria ranks second in Africa and tenth in the world in proved oil reserves, and first in Africa and eighth in the world in the reserves of natural gas. A total of 76 minerals are detected and 34 of them have commercial value. In the 1960s and early 1970s, Nigeria was the main exporter of tin, niobium and coal. However, due to some political and economic factors, the mining industry began to decline quickly in the mid 1970s, and crude oil production became the main source of foreign exchange. Now, because of the huge impact of oil, mining industry accounts for only 0.3% of its GDP.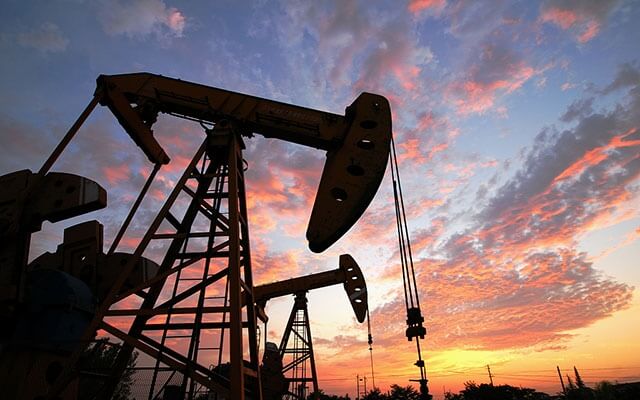 Although many kinds of minerals are detected in Nigeria, the mining industry is still in its infancy. The state-owned companies without advanced technology and updated equipment dominate the mining industry, which hinders the development of the mining industry. In recent years, many small-scale mining companies and manual miners have emerged. And then the government promised to reform the mining industry. Laws were published in order to encourage the miners, but proved to be useless. In 2018, mining accounts for less than 1% of Nigeria's GDP, much less than the 14% of oil and gas.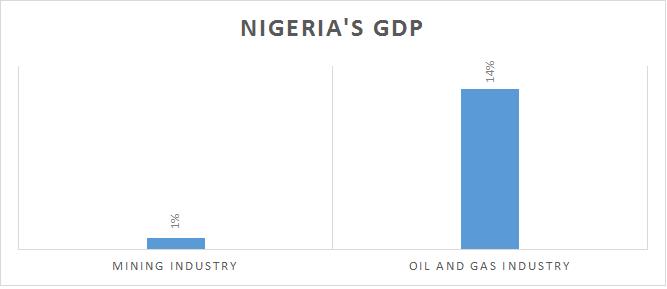 Now, even with rich resources of industrial field, Nigeria is still one of the worst economies in the world. The low utilization rate of natural resources leads to slow economic development and no industrial progress other than oil and gas, rising unemployment rate, and so on. The federal government is trying to refocus on other industries to diversify its economy, like agriculture and mining. With the loosing of the regulation of the mining industry, many mineral resources are detected by exploration companies. It seems that the mining industry can become a key industry in Nigeria again.
"According to the official website of Mines and Steel Development, The Minister of State, Ministry of Mines and Steel Development, Abubakar Bawa Bwari, has said the ministry is set to increase the sector's contribution to the national GDP from 0.3% to 3% in 2019 and 10% to 15% by 2025. The Nigerian government will provide non-cooperative support in exploiting the solid minerals that could be used. But the government hopes the mining development would not damage the environment and human health. Nigeria is rich in solid minerals, and mining can definitely become a pillar industry in the national economy, but the current performance of ore mining is out of proportion to its status. It is urgent to shift the national development focus from oil and gas to solid mineral mining."
Nigeria is rich in mineral resources. Tin, niobium and coal are abundant and of high grade, so there is much room for development. At present, influenced by domestic encouraging policies and the increasing investments from foreign countries, the mining industry in Nigeria is gradually developing again. Many investors from other countries come to Nigeria to exploit and process high-grade minerals. Many small-scale mining companies and manual miners have also emerged. The mining industry is developing well and is continuing to contribute to the improvement of the national economy.
The Nigerian government has released some financial plans. For example, Ministry of mining and steel development cooperates with Bank of Industry (BOI), they supply 5 billion Naira found, but small-scale and manual miners can't be easily found because of the strict additional conditions. Olayinka Mubarak, Supervisor of BOI, pointed out that qualified manual miners would be allowed to loan 100,000 to 10 million Naira, and the small-scale miners would be allowed to loan 10 million Naira and 100 million Naira. However, only 9 small-scale mining companies have got the found till now, no manual miners. The development of manual mining is seriously hindered, then how can manual mining continue to develop?
There are three types of mining companies and groups, state-owned companies, small-scale mining groups and manual miners. The state-owned companies can enjoy the national investment, and buy mining machinery to improve the benefits. The small-scale groups are defined as mining with simple machines, a small group of workers usually work together with some simple and cheap machines. While the manual miners do their work with basic tools, like hammers, picks, shovels, buckets, carts, etc. And they extract and process minerals by hand working. Composed of 4-8 workers, they are generally processing the minerals with manual crushing and grinding.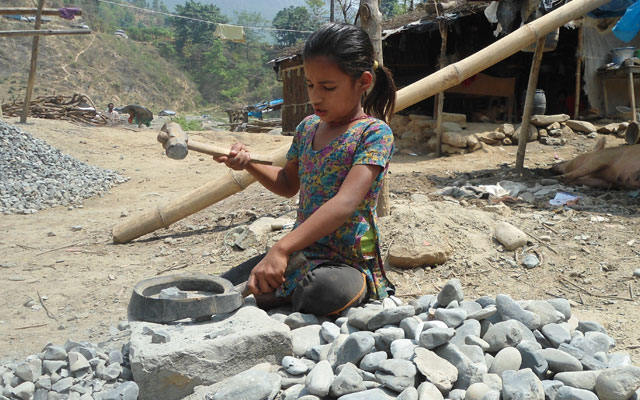 The Nigerian government estimated that the contribution of the mining industry is less than 1% of GDP, and the total export revenue is less than 2%. But the contribution will be expanded, it is estimated to rise to 3% of GDP in 2019. And taking advantages of the opportunities of the economic transition and growth, the government needs to seriously make plans for the key and early period of the mining industry.
Nigeria is rich in minerals, but the mining industry is led by small-scale companies and manual miners accounting for a large proportion. Many workers are poor men, women and kids with low salary but play an important role in Nigerian manual mining. For Nigerians, a series of policies and sustainable development in the mining industry represent an opportunity. So many of them are involved in the mining industry. For those rich people, it is an opportunity to earn money, but for the poor men, women, and kids, they want to come out of poverty, and satisfy their basic needs of life. So many people devote themselves to the mining industry. But lacking long-term mining plans and basic technologies, the manual miners adopt primitive tools and methods. They always work in the dangerous, unlawful and high-clutter environments.
Manual miners are mainly young men who receive little education or even no education at all. They have little or no incomes but high expectations for mining. But almost all of them are optimistic about being rich one day in the future. Believing that mining can help them to be rich, they are very hard-working in mines even in the harsh mining environment. 30% of manual miners are women, they are treated like men in the mines, because they need to do the dangerous and heavy work like men.
However, apart from working 10 hours a day, many women return home to take care of their children and do housework. Women in Nigerian mining industry lack dignity, autonomy and free time. What's more, even some kids from poor families go to the mines to do the simple but laborious work of hammering stones and carrying stones with the baskets. They are too poor to go to school for education, and they have no free time to enjoy their childhood. Manual mining also seriously harms the health of workers. Many people work hard more than 10 hours a day under the environment of severe pollution and dirty air, which will lead to many sicknesses and even infectious diseases.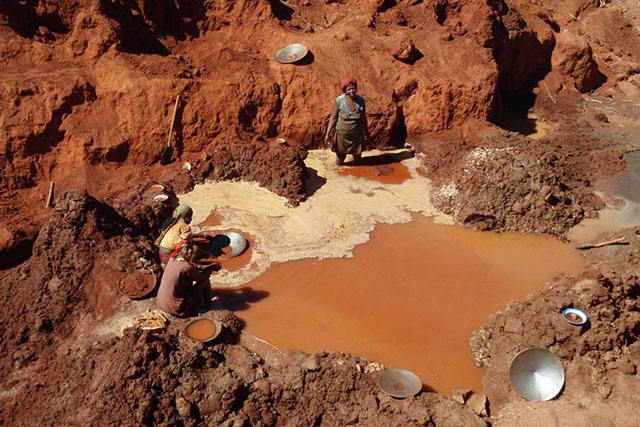 Lacking professional exploitation equipment and mineral processing equipment, manual miners exploit mines and process minerals with no plans. It will definitely hurt the environment and lead to resource waste. Without experience, training and professional knowledge, most manual miners just mechanically repeat every step of their work day by day. They make no sense of the components of the ores, so the final products by their manual processing cannot achieve the quality standard of uniform particle size so that the products can't meet the high international requirements.
Although Nigerian manual mining industry has grown at a modest pace, a large number of manual labor input can not increase profits, in turn, it causes a series of negative impacts. So manual mines should reduce its workers, and take mining machines into use to process the minerals. How will the manual mining in Nigeria continue to develop in 2019? It is an urgent question that needs to find the answer as soon as possible.
It is undeniable that the manual mining industry has promoted the national economic development to a certain extent, and has also attracted the attention of investors from more countries, which has increased the injection of foreign capital. Some farsighted manual mining groups with a large scale have noticed the unbalance between the high costs of manual miners and the low-profit margins of the finished products.
In order to enhance efficiency, some people have begun to look for mineral processing equipment to produce ore and to increase the output. As we all know, manual mining is no longer allowed in many countries with the developed mining industry, and many mines achieve their transformation by machinery. In 2019, Nigeria's manual mining industry will also need to reduce manual workers' input, and to increase output and improve the quality of finished products with mining machinery.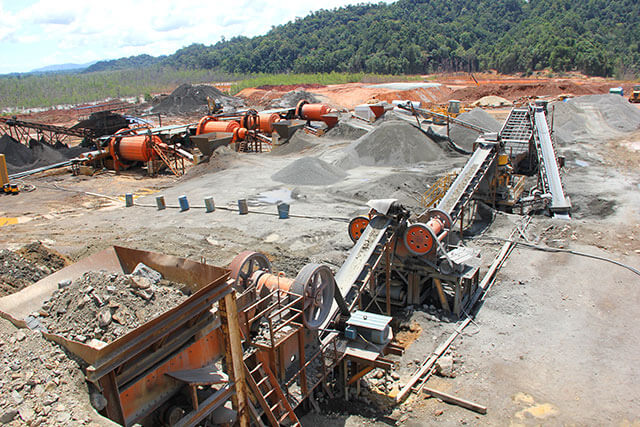 With the flourishing development of the mining industry, the competition is fierce in African countries. In Zimbabwe, Kenya, Tanzania and other African countries, many small-scale mining groups and manual miners have begun to process minerals with mining machinery. Thus, it is particularly important to improve output and product quality to bring higher profits. Many far-sighted people invest in crushing machines, ore processing machines and powder grinding machines to achieve scientific exploitation and processing, reduce damage to the environment and avoid pollution. The mining industry has gradually become a green and sustainable industry in various countries in recent years.