It is well-known that Vietnam is rich in iron ore, but little of it is developed and utilized. A lot of iron ore is sold abroad, causing a lot of value to be lost, while steel is imported from other countries at a high price.
Vietnam's top three steel importers are China, South Korea and Japan, and Vietnam has spent more than $8.1 billion on steel import in the past 10 months of 2019, importing more than 12.24 million tons of steel, equivalent to 187 trillion Vietnamese Dong.
Hoa Phat Group, a Vietnamese steel company, shows that it only needs 1.6 tons of iron ore to produce a ton of steel, with input costs of about 800,000 Vietnamese Dong. If steel is produced domestically, 12.24 million tons of steel would cost 9,792 trillion Vietnamese Dong ($420 million).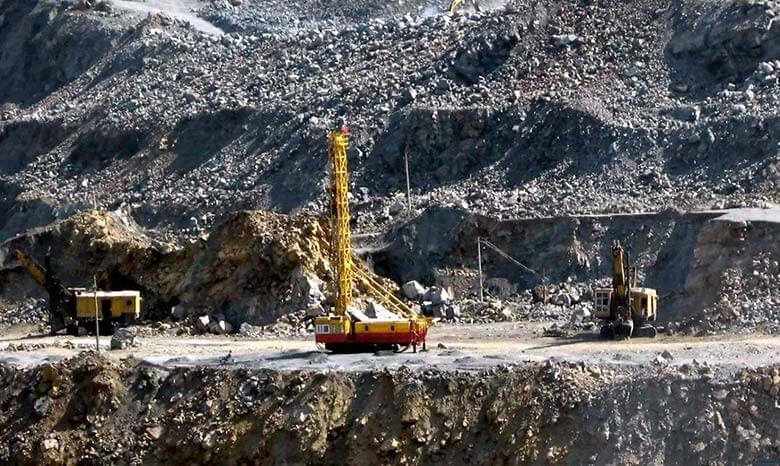 Vietnam is rich in iron ores
Therefore, domestic production costs of steel are negligible compared with the amount of steel imports. With such rich iron ore resources, how will be Vietnam's iron ore industry developed?
Based on the market status, this article will reveal the answers from four aspects: distribution of iron ore resources, typical deposits in Vietnam, value of iron ore in Vietnam and market development prospect, hoping you can get help.
Market status
Vietnam is located in the Indo China Peninsula of Southeast Asia, which has a long and narrow territory with an area of about 330 thousand sq.km. It is rich in mineral resources of various types, including coal, iron, aluminum, manganese, chromium, tin, titanium and phosphorus, among which coal, iron, aluminum have large reserves.
Under the guidance of "The Belt and Road Initiative", Vietnam has carried out the policy of construction positively in recent years. The Vietnam's government plans to spend 130 billion dollars to improve the current situation of the infrastructure, so that to attract more investment from other countries.
The improvement of infrastructure is inseparable from steel, and according to the data of Vietnam's bureau of statistics, it is expected that the demand for steel will be reached up to 30 million tons in 2020.
Distribution of iron ore resources in Vietnam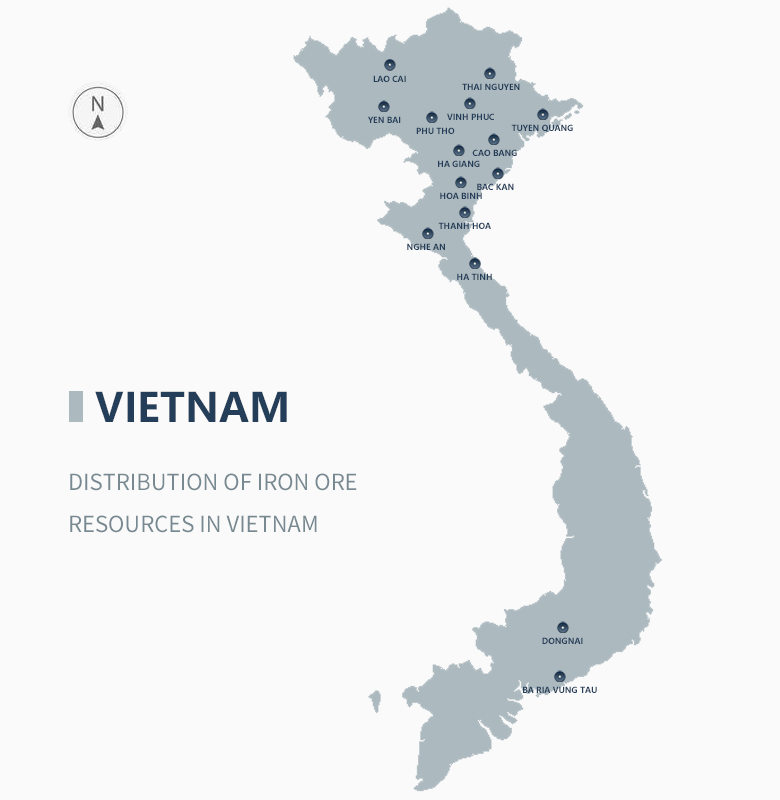 Distribution of iron ore resources in Vietnam
With the small area of landscape, Vietnam has the sufficient iron ore resource, among which the proven reserves of iron ore are about 1.3 billion tons, and the whole reserves are about 2.3 billion tons, with the iron ore grade is in the range of 50-65%. The iron ore is mainly reserved in the northern of Vietnam, and the figure below shows the distribution of iron ore resources:
| | | | | |
| --- | --- | --- | --- | --- |
| Region | Iron ore reserves | Main types of iron ore | Iron ore grade | Main distributed area |
| Northwest | More than 0.2 billion tons | Limonite, magnetite | 38-55% | Lao Cai, Yen Bai, Phu Tho, Vinh Phuc |
| Northeast | More than 0.5 billion tons | Magnetite, goethite | 42-60% | Ha Giang, Thai Nguyen, Cao Bang, Bac Kan, Tuyen Quang |
| Central-north | More than 0.8 billion tons | Magnetite | 60-65% | Thanh Hoa, Hoa Binh, Nghe An, Ha Tinh |
| South | 0.05billion tons | Magnetite | - | Dongnai, Ba Ria Vung Tau |
Slide to the right>>
Typical deposits in Vietnam
Tu Hi iron mine
Iron ore mining site
Tu Hi iron mine is located in a coastal area 7km northeast of Ha Tinh, and only 3km north of Somen Port. The ore in this area is dominated by massive hematite-magnetite iron ore (accounting for 95% of the total volume), with an average content of 61.35% of Fe, 0.207% of Mn, 5.45% of SiO2, 1.79% of A12O3, 0.86% of CaO, 1.20% of MgO, 0.27% of TiO2, 0.047% of P, 0.148% of S.
Guixiang iron mine
Guixiang iron mine is located in Wenpan County, Huanglianshan Province, northwestern Vietnam which is a large-scale leaching-type iron deposit. The main ore body is forming a "small iron mountain", which is 250 to 550 meters above sea level in the south and north respectively. The average thickness of the ore body is 170 meters.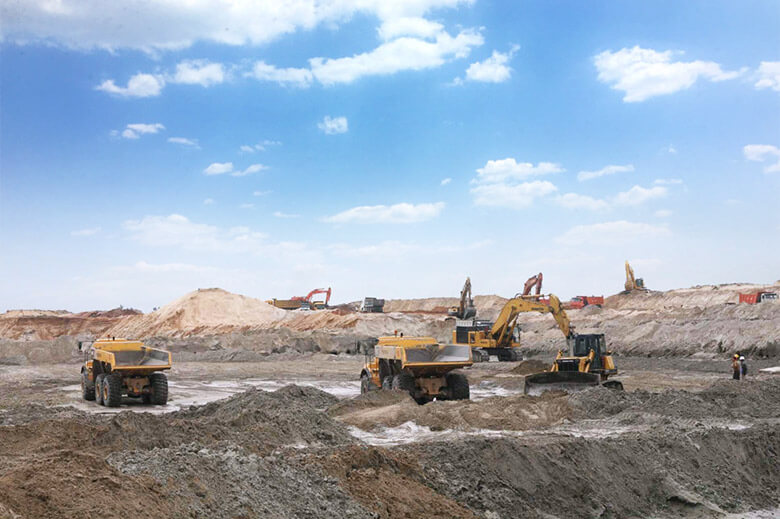 Vietnam's large iron ore mine
The ore is mainly high-grade iron ore deposit (98%), with an average Fe content of 56% to 57%, and proven reserves of 118 million tons. Hard iron ore contains 80% to 88% of Fe203, 0.1% of FeO, 1.6% to 2.7% of SiO2, 1% of A12O3, and the pH ratio there is 0.15.
Bona iron mine
Bona iron mine is located on the east coast of the Red River in the west of Bona. The iron ore layer is produced in the crystalline metamorphic belt of the Red River, which contains medium-coarse-grained and coarse-grained amphibole layers ( of thickness 8 meters).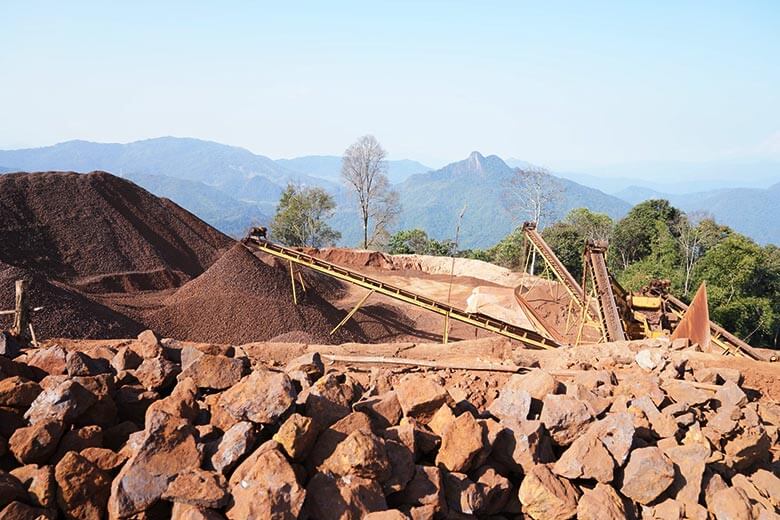 Iron ore crushing and screening site
The ore is mainly magnetite iron ore, and there are disseminated and banded ores. The average composition is Fe (47.73%), SiO2 (32.00%), Al2O3 (11.59%), Mg (0.012%), P (0.15%), S(0 .07%), and the ore is often interspersed by late quartz veins containing pyrite, chalcopyrite and azurite. The type of the deposit is a volcanic sedimentary metamorphic deposit. It is estimated that iron ore reserves are about hundreds of millions of tons, which has a large scale.
Lao Cai iron mine
The Lao Cai iron ore is distributed at the northern end of the Lao Cai - Anpe iron ore belt, and more than 30 kilometers away from Bona iron mine. The original ore of the two is similar.
However, the Lao Cai iron ore is currently extruded in a narrow northwestward narrow structural zone. The layered lenticular ore body is mostly weathered and damaged to form a residual iron deposit.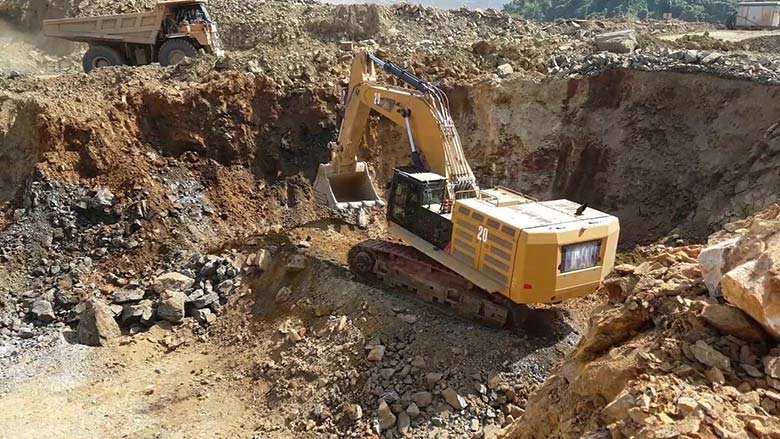 Vietnam's mining site
The ore body intermittently extends of length from 3500 to 4000 meters and thickness of 300 meters. The total mineralization and distribution are uneven. The ore is massive and mostly composed of oxidized magnetite. The estimated reserves are over 100 million tons.
Value of Vietnamese iron ore
Vietnam's iron ore grade is generally higher
According to statistics, the grade of iron ore in Vietnam is generally above 60%, and the grade of iron ore in some areas is as high as over 97%. It can be directly smelted in the furnace.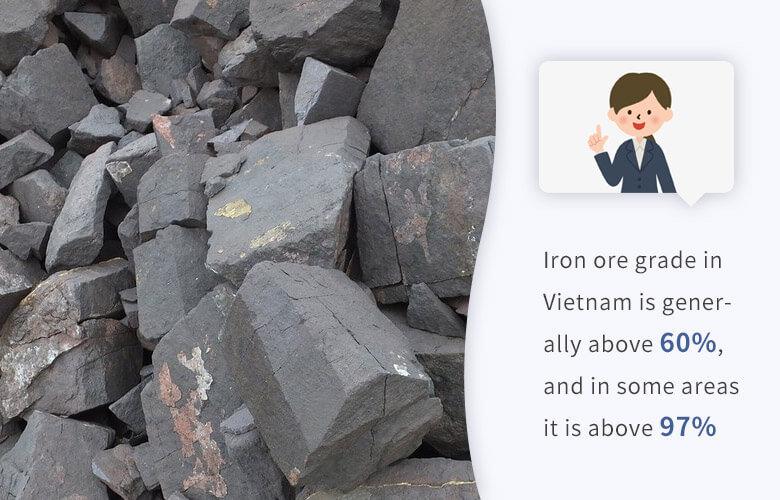 Vietnam iron ore with high grade
And the distribution of rich iron ore is distributed concentratedly, which can form a certain mining scale and can be independently mined, saving mining costs and smelting costs.
It contains a few chemical elements
There are fewer multi-element symbiotic composite ores among Vietnam's iron ore resources. The mineral body is simple which can be utilized easily and save more costs.
From the perspective of beneficiation cost, the iron ore in Vietnam is far lower than the developed countries. The main reason is that the high grade of ore in Vietnam's mines, which requires only a small amount of beneficiation treatment to obtain finished products, and saves a lot of ore production costs.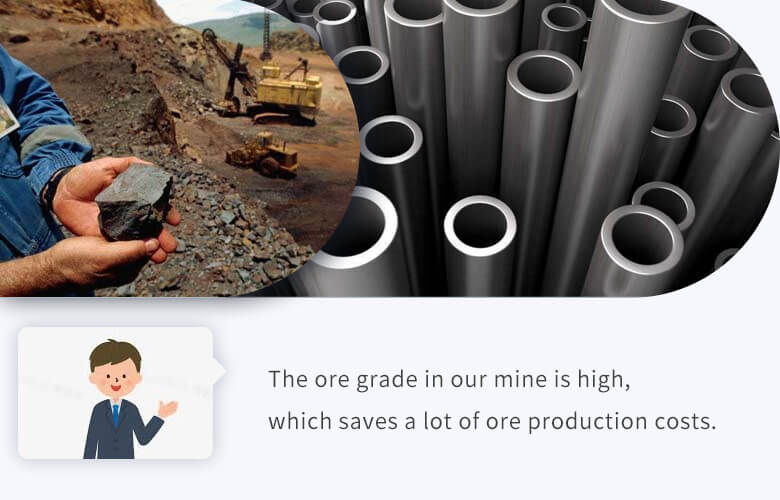 Vietnam's iron ore saves more production costs
The grade of iron ore is uniform
There are a few types of iron ore in Vietnam. The type of ore is mainly magnetite. The beneficiation process of magnetite is relatively simple, and magnetite is currently the most popular type of iron ore in the world.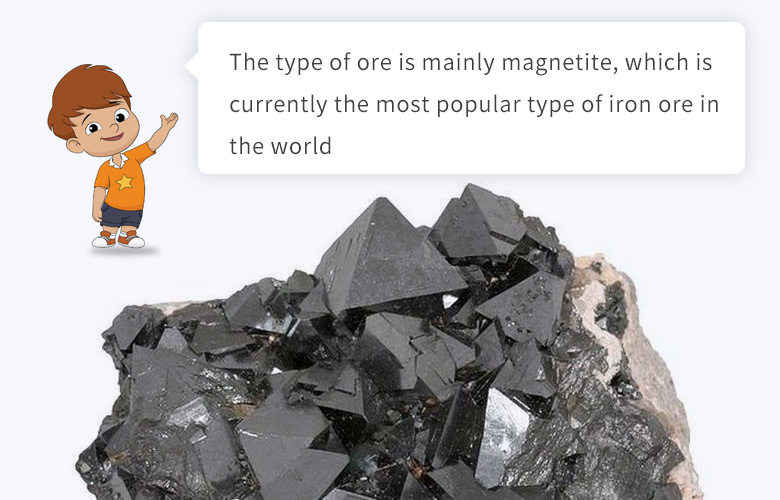 The type of ore is mainly magnetite
The geographical position of the iron mine is superior
Most of Vietnam's iron ore is distributed along the coast, and its geographical environment has a great advantage. The hydrogeological conditions of the mine are simple, the mine area has convenient transportation, and the ore has a centralized distribution. These factors can provide convenient conditions for subsequent mining and save a large amount of mining capital investment.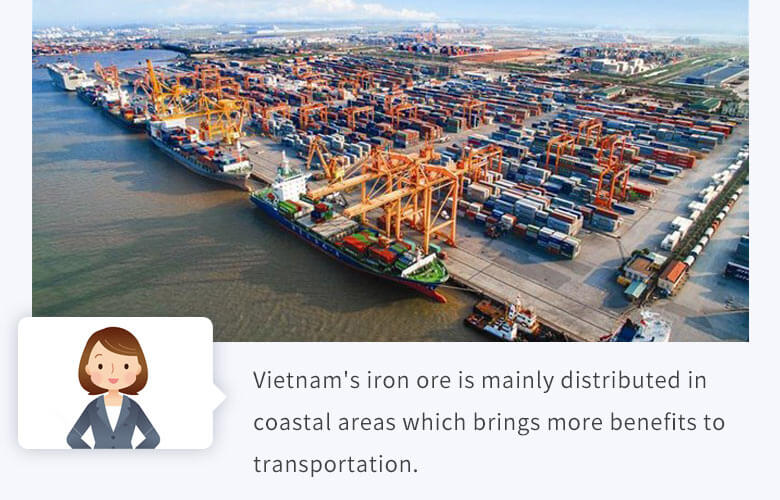 Convenient transportation in Vietnam's iron mine
Development prospects of Vietnam's iron ore industry
Vietnam is located in the southeast of Asia and has a weak economic foundation, especially the lagging development of the steel industry.
In recent years, with the continuous deepening of economic globalization and the continuous adjustment of the division of labor in the global industrial chain, the industrialization process in the region has been accelerated to meet the domestic demand-oriented construction industry and the external demand-oriented manufacturing and processing industry.
The development has driven the growing demand for steel. Among them, Vietnam's construction steel accounts for a huge proportion, as high as 93%, which also determines that Vietnam's main consumption is mainly steel.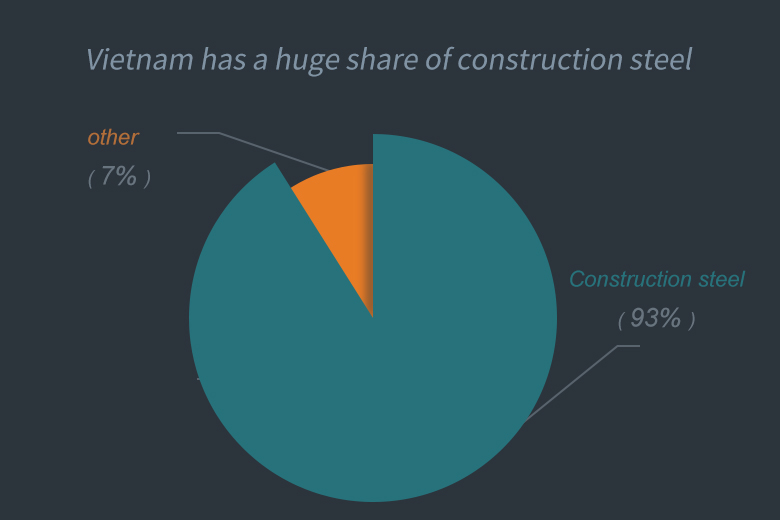 Construction steel account for more proportion in the whole volume
In recent years, Vietnam's crude steel demand has been performed significantly, with a growth rate of 22.3%, while Vietnam's steel supply is only about 7.81 million tons, which is only equivalent to a large steel company in some countries.
At present, Vietnam has more than 60 construction steel production companies and four sheet metal production enterprises, with an annual production capacity of nearly 20 million tons of crude steel.
Vietnam iron and steel corporation has an annual steel production capacity of 1.5 million tons, an annual steel rolling production capacity of more than 2.5 million tons, and an iron ore production capacity of 300,000 tons.
Conclusion
To sum up, Vietnam's future steel demand has huge room for growth. The expansion of its domestic steel production capacity has strengthened the trend of steel self-sufficiency in Southeast Asia.
In particular, the continuous expansion of Formosa River's static capacity will change the steel production layout in Vietnam and even the entire Southeast Asia.
What can not be ignored is that there are still many unfavorable factors in Vietnam's iron ore market, such as the backward technological methods and methods of iron ore mining, the chaotic issue of the ownership of mining management rights, etc.
It is believed that with the promotion of the "Belt and Road Initiative", more investors will focus on Vietnam's iron ore and discover more value of it.